Match Safes
Should you have any questions regarding any item, please feel free to call:
310-446-3079 or
Email us with your request sales@angling-artifacts.com
Click on any item to see enlarged and/or detailed view of an object.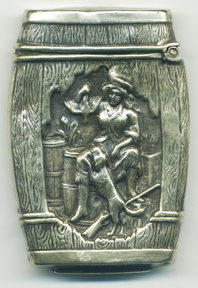 RARE HUNTING SCENE SILVER POCKET MATCHSAFE C.1890
Beautiful and scarce is this 1890's Hunting Scene silver Matchsafe. It is marked Silver. The scene depicts a detailed wooden barrel with a cut out scene of a Hunter holding his kill and his Dog and hunting rifle. These antique matchsafe's were generally carried in ones vest or coat with wooden matches. They preceded the invention of the match book. The bottom of the matchsafe has a ridged striker surface. The back has the same scene as the front (twice the work). The top has a hinged spring loaded top which fits perfectly. Only needs a polishing if buyer wants too. It measures approximately 1 1/2" by 3 1/2". Matchsafes with Hunting and Fishing scenes are quite scarce. Please click on its image to see additional closeups!
SKU 16778
Price $179.00
HUNTING SCENE MATCH SAFE W/HORSE & HOUNDS SILVER
This is a 1890's Silveroin (alloy not sterling) Match Safe depicting the Fox & Hounds Hunt on Horseback. It is in excellent condition and the scene is on both sides. It has a striker grid on the bottom. The top is hinged, working great and tension loaded. Hunting and Fishing scenes in vintage match safes are scarce and thus hard to come by. These early match safes were used to carry wooden matches in the vest or jacket before 1910 when the matchbook was invented and patented. Please click on it's image to see additional closeups!
SKU 16283
Price $225.00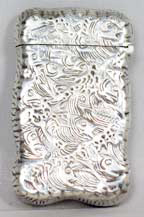 STERLING FISH MOTIF MATCH SAFE C.1900'S
Scarce vintage match safe that was used prior to the invention of the match book. Most sportsmen and/or smokers carried these in their vest pockets during the late 1800's thru the early 1900's. Rare with fish motif images. It is marked "Sterling" and was created by the Gorham Silver Co. Hinged lid top in good working condition. Etched striker on the bottom. Please click on its image for additional closeup's.
SKU 13846
Price $350.00