Nets
Should you have any questions regarding any item, please feel free to call:
310-446-3079 or
Email us with your request sales@angling-artifacts.com
Click on any item to see enlarged and/or detailed view of an object.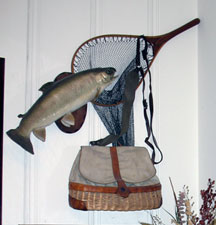 Creel, Net & Mount Display
An example of how to create an area displaying a Creel, Net and Mount combination. Click image to see an enlarged photo. Note: Items not for sale, display only.
Price $0.00
SMALLER 20" TWO-TONE STEAM BENT FISHING NET!
Nice smaller scale hand held landing net for stream trout,etc. This 20" long fishing net is 7 3/4" wide and is in excellent clean condition. It is unmarked but a beauty! The wooden frame is steam bent featuring a lighter ash or oak on the outside rims and a mahogany inset handle block. Please click on its image for additional closeups!
SKU 15203
Price $69.00
CUSTOM HAND MADE 28 1/2" LANDING NET!
Beautifully crafted hand made fishing net, never used. Longer reach measuring 28 1/2" long and 9" across. Two tone ash and walnut. Ready to use or ready to display. A Beauty! Please click on its image to see additional closeups!
SKU #14826
Price $139.00